Partnership insights 4-Traffic

Published by Daniel Stofan on
Recently we had an informal chat with our Dutch partner 4-Traffic. We want to share with you the conversation with the cofounder, Jeffrey Pot. From how it all started, to their current projects and future goals.
C: ''Hello Jeffrey, thanks a lot for being with us during this hot summer afternoon. I wanted to get to know more about the story behind 4-Traffic. So how did it all start? Also, what is it that ultimately made you opt for a traffic data software provider?''
J: ''Hi Chris, thanks for inviting me to this chat with GoodVision. Going back to 2021 our 4-Traffic adventure started together with Michel, who was my work colleague at the time. The Corona period especially contributed to our thoughts about starting something different. In fact, we were always extremely busy at our previous employer, but during the pandemic there finally came a time when we could think more clearly about what we really wanted to do. When we started to build up our company, we were inspired to look for different innovations available. We wanted to find a solution that would allow us to quickly seize opportunities in the market. At our previous employer, we worked with another party that provided us with the results of the traffic counts, but we often encountered limitations in processing the footage. And this is something we were glad to discover in GoodVision, as you don't have such restrictions, letting us analyse every single part of the traffic video recording.''
C: ''Excellent, so it seems the good outweighed the bad for you during those gloomy Corona times. How did you actually find out about GoodVision? And what was it that most intrigued you about our solution?''
J: ''After several conversations with you, we gained confidence in GoodVision's software and its capabilities. During these discussions we understood that all movements and routes travelled by each road user were mapped out. This is a huge difference compared to other competitors, who can also analyse footage but make you pay for the analysis of each crossing or extra cycling path on top. At GoodVision we pay a single price and we know immediately what data to pass on to our customers. Additional functions such as calculating the travel time or determining the speed of a vehicle were also not always possible with video analytics software from other providers.''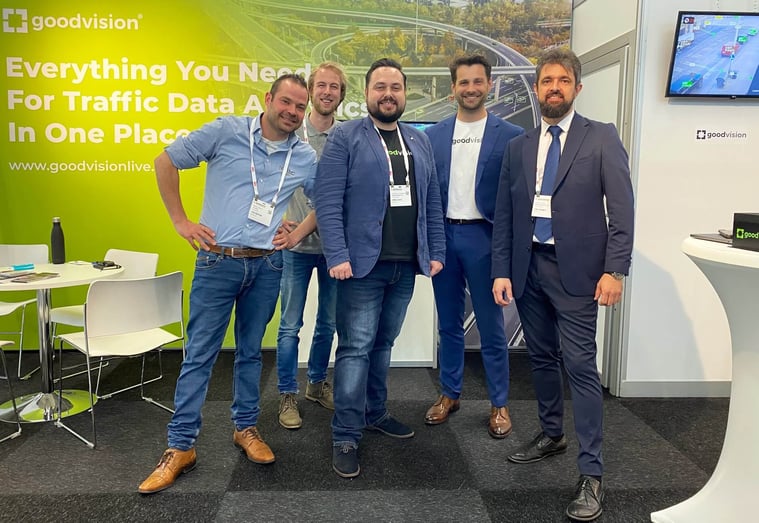 4-Traffic and GoodVision together on Intertraffic 2022
C: ''Were you also able to see any changes in the KPIs after you started working with GoodVision?''
J: ''We've carried out several projects since last year. The most important thing for us in GoodVision's software is that the reliability of the data is high. Initially, this was a leap of faith for us, as we didn't know of anyone else who had already worked with GoodVision and who could tell us more about its reliability. In the distant past, you used to count on the side of the road with pen and paper, nowadays we make recordings with our own cameras. It's just crucial that you provide us with the correct figures. We regularly perform manual checks to verify if they really are trustworthy. What we generally observe is an accuracy of 99%, which gives us a lot of confidence in your solution. We continue to do these manual checks, to be able to demonstrate to our clients that the figures we provide them with the software are reliable and so we keep their trust.''
C: ''In fact, our computer vision is being trained constantly and this is what you get. Is there anything else you found on the way of your cooperation with us that is worth mentioning?''
J: ''Well, one thing we're particularly glad about is that GoodVision is open to feedback, working on constant and prompt improvements of the software capabilities. We realise we're also important for you and the continuous development of your solution. In fact, we hear from our customers regularly and they share with us what they foresee they would need in the future. Recently we advised you about the introduction of ribbon diagrams, so that our customers could see the intensity of a particular intersection at a glance. And guess what? Your development team is about to finalise such a feature in the next product release!''
''GoodVision is the best choice in the field of traffic data analytics in Europe''

(Jeffrey Pot, Co-founder of 4-Traffic)
C: ''Thinking about the future, what are your next goals and how can GoodVision help you achieve those?''
J: ''Regarding our next projects, in the short term we want to find a municipality or company in the Netherlands where we can set up a live count. We own more than ten cameras ourselves, and we are planning to make good use of them for collecting data from different locations. We'll be using your solution Live Traffic for this purpose, so we are looking forward to the project taking off soon. Our wish is to further intensify our cooperation and to keep seeing GoodVision as open and flexible for new future requirements of the market. In that way, we can assure that the product we offer to our customers is customisable, following their real needs and that the results are delivered in the quickest way possible.''
C: ''Thanks a lot for the pleasant talk Jeffrey! We surely look forward to keeping up with the needs of 4-Traffic and the Dutch market in the long run.''
About 4-Traffic
4-Traffic is a traffic research company specialised in conducting traffic investigations. The company was founded in 2021 by Jeffrey Pot and Michel Felkers, who have more than 10 years of experience in the field of traffic surveys. 4-Traffic is working on carrying out parking investigations, traffic counts, licence plate investigations, which determine how long vehicles remain within a certain area, etc. This partnership allows their clients to automate their projects while saving an extensive amount of time and costs.