Partnership insights - Traffic1

Published by Daniel Stofan on
In case you are curious about how it all started with our cooperation with Traffic1, we would like to share an insight from our recent conversation with our partner. Especially for those attending our Webinar next week, it can be an inspiring view into what their main challenges were and what part was played by GoodVision. We are offering you a glimpse of the talk between the Founder of Traffic1, Stephen Bell, and our Head of Global Sales and Business Development Christopher.
C: ''Hi Stephen, thanks a lot for taking the time for us today. I'd like us to go back in time now and tell us what the main challenges for you were that made you think of trying a new traffic software provider?''
S: ''Hi Chris, it's always a pleasure talking to you. I can tell you that before we had been using various individual analytic plugins on our in-field equipment to analyze the data captured. We were aware that we needed to bring all these applications together in one platform to save time and completely automate our services. The idea that we needed a High-Level software to enhance our Rapid Deploy infield video capture equipment was widely shared in the company. So we started looking into building a software ourselves but after further reflection and extensive research, we came across GoodVision. We soon realized that it was the perfect fit with its AI capability, taking our infield survey offering to a completely different level.''
C: ''I see, so can you tell me more about how exactly these issues were impacting your business on a daily basis?''
S: " Well, we were constantly receiving feedback from our clients experiencing industry accuracy issues and time constraints in getting good quality survey data and reports. Even though our existing services were changing and speeding up standard processes, we just knew there was more that we could do. In fact, we were using individual analytic plugins to cover different survey types and speeding up processors''
C: ''Yeah, your story sounds familiar in our field. So what were the solutions and providers that you considered? Were there any initial doubts you had about working with GoodVision and finally, how did you choose to be our partners?''
S: ''I can tell you that we researched many different solutions out there, but none was synchronized as perfectly with our in-field equipment as GoodVision in terms of accuracy and simplicity. We surely had our concerns regarding the time difference between the EU and Australia, especially in dealing with any possible support issues arising from our clients. Anyhow, GoodVisions' ability to adapt and evolve with our business no matter what issues may present, made our final choice clear.''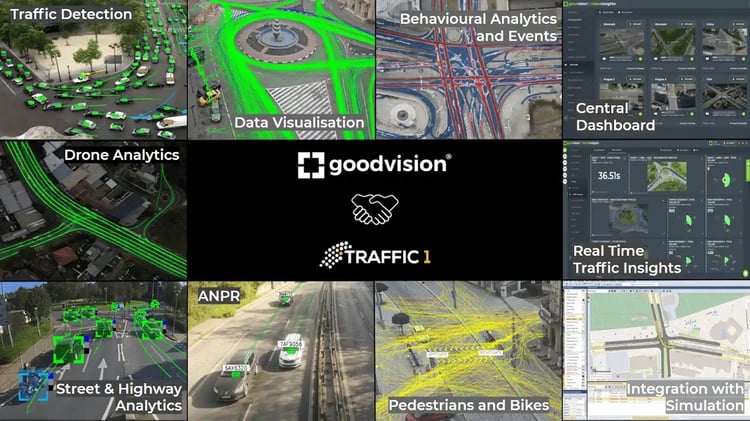 C: ''That's really great to hear, Stephen. Would you tell me the key benefits you got from our solution and how long did it take you to spot them?''
S: ''We have automated processes now to the point that clients can't believe our turnaround times on date and report delivery. Just imagine that we now provide 10 times the amount of data compared to industry standards. And all this at no extra costs for clients. We knew from the beginning that this was a game-changer for Traffic1 and as we used the software, it became even more apparent that we've made the perfect choice for our business.''
C: ''And were there any benefits that you didn't expect along the way? Maybe you can disclose any of your metrics or KPIs that have been impacted since?''
S: ''For sure, what surprised us was the absolute simplicity in using the GoodVision software and analyzing the captured data. As for metrics, the processing time for collected data has now increased by up to 5 times, as some previous survey methods that we used had to be manually cross-checked before the client received the final report.''
C: " Is there anything you liked in particular about your experience with GoodVision or something you wish to be changed?''
S: ''What we most appreciate is the fact that you've created an amazing platform and at the same time you keep pushing the boundaries to improve its processing capability. And that will only serve to enhance Traffic1's business growth in Australia and abroad. Your company is forward-thinking and always open to feedback: if a request for a change is made, you are generally already working on it or just about to implement it. In fact, dealing with the GoodVision team is always a pleasure and feels like an extension to my own team.''
C: ''Now looking a bit into the future, what are your plans and upcoming initiatives in the field?''
S: ''Traffic1 is leading the traffic and transport industry in Australia and we plan to expand our services to other countries that are struggling to automate the traffic survey processes. Our complete technological approach and GoodVision as an exceptional modeling platform provider are the perfect tool kit combination to achieve all this.
C: ''Thanks a lot Stephen. You made the point and we definitely want to keep up to your expectations. To finish, is there anything else you'd like to add that we haven't touched on?''
S: ''If Traffic1 were to create a software that is AI-driven, it would look and feel exactly like your creation. No point in re-inventing the wheel in this case. GoodVision is great at what they do and we are leaders in our field, for Traffic1 it's the perfect partnership.''
About Traffic1
Traffic1 provides the Australian traffic and transport industry with accurate smart data collected via innovative rapid deploy infield equipment. Their technological approach performs at the same level as safe city surveillance assets. Still, it is completely autonomous, can be deployed anywhere, anytime, incorporating live feeds, analytics and machine learning to collect the smart data required for comprehensive traffic studies and capacity analysis.