Announcing GoodVision's Partnership with SMDI Consultants in Asia Pacific

Published by Daniel Stofan on
At GoodVision Ltd, we are excited to formally announce our partnership with SMDI Consultants, Inc., a transport planning and traffic engineering consultancy firm from Metro Manila, Philippines. Both companies will work together to increase the deployment of smart city technology across the Asia-Pacific.
The city's ability to quickly respond to emerging needs was extremely limited by existing data collection and evaluation techniques. Majority of the traffic analytics work was performed manually. with limited outputs … until now.
The ultimate intent for urban and transport planning projects is to leverage traffic survey video data into actionable information to make more informed and data-driven planning, funding and project development decisions. GoodVision and SMDI have spent a significant amount of time looking at how best to leverage best in class technology. artificial intelligence and traffic data analytical capabilities, in which GoodVision is the leader in the field.
About SMDI Consultants, Inc.
SMDI Consultants, Inc provides consultancy services in transport planning and traffic engineering, to facilitate the efficient and systematic movement of people, vehicle fleet and goods, as an integral part of proposed urban developments. SMDI is the Partner of the PTV Group in the Philippines for transport modelling and traffic simulation technologies.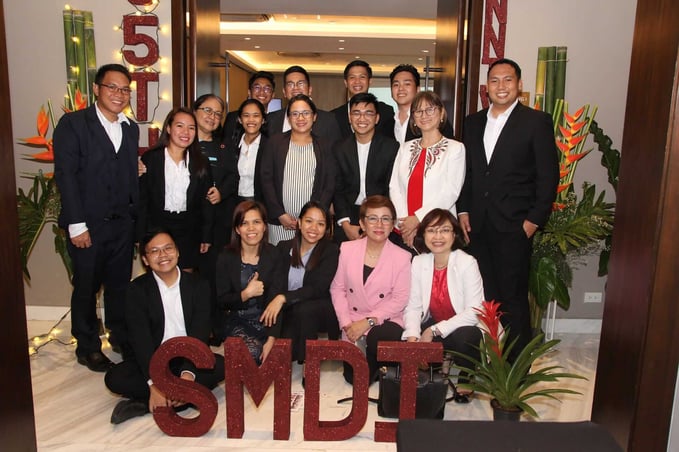 Organised in August 1984 in Metro Manila, Philippines, SMDI has built a solid foundation in the traffic engineering and transport planning profession and comprehensive development and urban planning. Today, SMDI is an established and dynamic consultancy firm with a string of significant accomplishments, backed by its pool of experienced urban transport and environmental planners, traffic engineers and simulation/modelling specialists.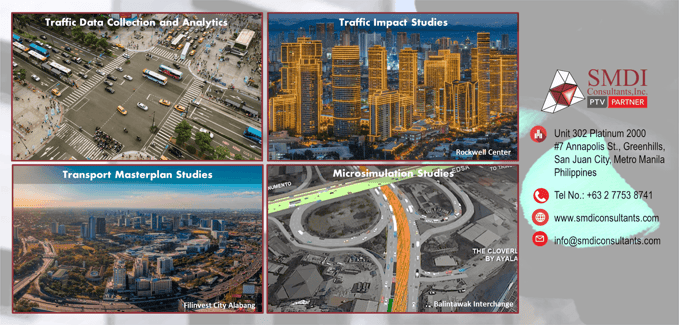 Through its affiliation with its local and global consultancy firms from the Philippines, Japan, Singapore, the U.K., and Germany, SMDI has been involved in significant infrastructure projects for the Philippine government and the private sector. Essential services offered in conjunction with GoodVision Ltd product portfolio are:
Traffic data automation and data analytics
Transportation master planning studies
Urban transportation system development/improvement
Pedestrian and vehicle microsimulation
Car park planning and analysis
Traffic control and management schemes
About GoodVision Ltd
GoodVision Ltd is a company from London, United Kingdom, established in 2017. GoodVision provides transport planners with everything they need for transport data analytics in one place. With GoodVision's products, transport surveyors and planners achieve incredible productivity on their transport planning and modelling projects.
GoodVision provides a complex traffic analytics platform called GoodVision Video Insights. The platform combines unbeatable traffic data extraction capability from videos and cameras, with unique traffic data analytics for traffic modelling, simulation and behavioural analysis. With this solution, transport analysts get data from traffic surveys in the most convenient way ever, and traffic modellers save 95% of their time by automating the traffic model calibration.
Plans for the future
GoodVision's traffic analytics platform is directly integrated with PTV Group products, especially PTV Vissim, that SMDI market and use in their projects. Ultimately, increased effectivity, productivity, and traffic data accuracy for SMDI's clients are one of the cooperation's key goals.
Both companies believe that with advances in sensor technology and computing capacity, there is a significant opportunity to understand infrastructure performance and to respond to questions on transportation issues with much more detail than in the past, at a much faster rate, and in a cost-effective manner.
SMDI Consultants, Inc. becomes the official, authorised GoodVision partner and distributor in the Asia-Pacific region. This allows SMDI to access, promote and actively market GoodVision's product portfolio to organisations in the region and enable faster market adoption. The Asia-Pacific market is one of the fastest-growing and innovative markets in the transportation industry. GoodVision Ltd experiences high interest from civil engineering organisations and governments across the region looking to adopt this technology and the new method of working and utilising traffic data. Automation of traffic data collection, without manual work, is becoming a new standard in the industry, requested by smart cities of Singapore, Manilla, Kuala Lumpur and Jakarta.
. . .